Hope4All is an exciting initiative on an estate in the Diocese of Durham that's using community projects to reconnect people with their parish church and transform the local area. We spoke to Kimberley Lo and Derek Bagnall to find out how this Sunderland estate is putting the local parish church back at the heart of the community.

St Thomas' Church is located at the heart of Pennywell, a large social housing estate in Sunderland. In the 1970s, it was a vibrant parish church, playing a pivotal role in the life of the community through weddings, baptisms and a thriving Sunday school. It was instrumental in building relationships, encouraging social enterprises and creating a strong sense of intergenerational community in Pennywell. With around 80-90 members in the 1970s, people from all ages worshipped at St Thomas', and it became the backbone of the wider estate.
However, St Thomas' started to see a decline in church membership in the latter 1970s, reflecting some nationwide trends. At the same time, levels of unemployment increased on the estate and parts of Pennywell were demolished, leading to much disruption and upheaval. The church started to be frequently vandalised, with windows being broken almost daily and items being stolen, and it was eventually fenced off. The congregation dwindled down to 12 to 14 members and sadly it looked like the church might have to close. 
However, over the past few months, the parish of St Thomas' has seen a remarkable turnabout. In 2020 the Diocese of Durham started a new initiative called Communities of Hope. It aims to support community projects in low-income areas with the hope of connecting people with faith in accessible ways and transforming the local area. St Thomas' Church was chosen to be part of this new initiative, enabling Kimberley Lo and Derek Bagnell to start working as key workers on the Pennywell Estate. We spoke to Kimberley and Derek to find out more about this exciting initiative: 
"There was already a small food bank at St Thomas' so our first project was to think about how we could adapt it to help people in the long-term in terms of budgeting and money management. We wanted to show people the love of God in active ways and help the community to see that the parish is here to serve and support them, whatever their needs are.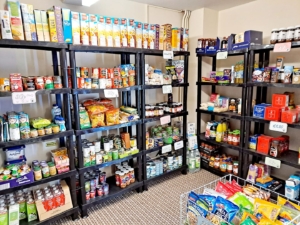 Then Covid suddenly hit and people in the community began losing their jobs and homes. We started receiving donations of clothes, toys and homeware so we decided to start a sustainability shop. We wanted to eradicate waste and give people an easy way to recycle and donate goods, as well as support anyone in need or going through a crisis. But it didn't eradicate the food bank issue, so after a lot of meetings we decided to start a food cooperative. We opened the doors to Shop4All at St Thomas' this April 2021 and within the first six weeks we had nearly 130 members. Everything we sell at Shop4All is sold at half price or less. It helps people manage within their budget, so that they can rely less on the food bank. It's much more dignifying than using a food bank and it gives back to people the ability to choose – at a food bank, you are given food, whereas at Shop4All, you can decide what food to buy and regain your independence.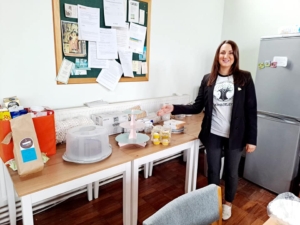 We've also opened Cafe4All at St Thomas' in order to combat social isolation and help people access the church in a relaxed way. We realised that a lot of people living in Pennywell were very isolated, even before Covid, so it gives them an opportunity to get out and build relationships. Everyone needs care and someone to talk to, and by offering this at St Thomas', it feels like the parish church has become a communal place again. When we're open, one of our team vicars is usually available for people to talk with or offer spiritual guidance. The response has been amazing – one lady recently said to us, 'I didn't know what I'd do without this place.' The cafe is open three days a week and we're often at full capacity – there are usually no seats left! Another lady apologised the other day for making too much noise but it's wonderful as it feels like the church is alive again. 
The cafe is situated at the back of the church and on Wednesdays we have a Eucharistic service while the cafe is open. We're realising that most people aren't opposed to God or church, but they can feel quite intimidated by it – it's hard to come to a structured service if you've never read the Bible or grown up in church. So we started asking ourselves, 'How can we help people feel comfortable and welcome them through our doors without them feeling intimidated?' Holding a Eucharistic service or Bible study while the cafe is open means it's more informal – people can just sit and have a coffee while they listen to the service. Something from the sermon or a reading from the Bible might connect with them as they sit there or walk around, and they don't have to worry about understanding the structure of the service. We're planning to run an Alpha course soon too as another way of introducing people to faith in a more accessible way.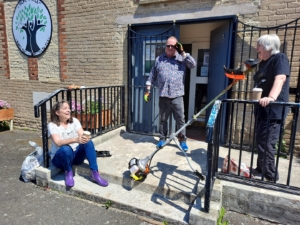 We never thought it would take off so quickly, but we now have 197 members at Shop4All in the space of four months. People's lives are changing in front of our eyes and we can see God in the midst of all that's happening. One of our volunteers at Shop4All has been out of employment for a while but he's now actively looking for work and applying for jobs – we can now give him a reference and his confidence has grown amazingly. We've started offering debt counselling sessions in partnership with Christians Against Poverty (CAP) and we'd love to start running mentoring schemes and workshops to help people find employment and upskill. Historically Pennywell's parish church was fenced off as it kept getting vandalised. Yet since we've started, we've had no trouble whatsoever. We've taken the fences down and our church warden has planted lots of flowers in front of the church. A few years ago they might have been pulled out but they haven't been touched at all and we're planning to develop the church gardens and grow fruit and vegetables here. We've even had other churches visit us to see what we're doing so they can start something similar in their community.
We didn't have a lot of facilities or a full-time vicar, but we just utilised the church space in the best way we could. It doesn't have to be complicated – we just started by looking at the needs of the community and exploring how St Thomas' could be somewhere where people enjoyed spending time during the week. The local council and local organisations have really got on board as they could see the vision and we've managed to secure funding with Sunderland City Council. Social media has also been really helpful in spreading the word and linking with other charities too. Sometimes we can assume that other organisations might not want to work with the parish church but our two local councillors have been massively supportive and helped us with applying for funding. The Diocese of Durham has been really involved too – it's a learning curve for all of us and they are great at giving advice or guidance if we need it.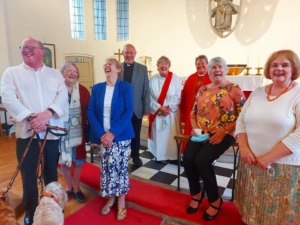 We still can't believe all that's happened in less than a year and we're seeing God at work in so many ways, from providing amazing volunteers to giving us the confidence to start new projects and share what's been happening. If you'd told us five years ago that we'd be speaking on BBC Newcastle about this parish, we wouldn't have believed it! We're hoping to build a proper kitchen for the cafe in the near future and we are working with local businesses to sell their products in our shop as a way of sustaining the church in the future. Our motto has been 'Just do it' – if we think too much about each new initiative, we'd talk ourselves out of it and it would feel too much, so we don't overthink it! Whole communities can be transformed when God is in the midst of what's happening and it's wonderful to see how St Thomas' is becoming the hub of our community once more."
The Myriad team are connecting with diocesan teams and church planters all over the country and were inspired when they heard about what God has been doing in Pennywell. The story of Hope4All is a great example of what Myriad is working to encourage – the partnership between parish churches and the planting of new Christian communities.
Watch Hope4All's story here or follow them on Facebook here.