together
Divine Renovation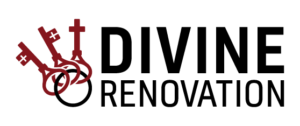 Divine Renovation exists to inspire, connect, and equip priests and their parishes to go from maintenance to mission – for every Catholic parish to be a place where people can come and have their lives transformed by entering into relationship with Jesus.
Their vision for the UK is to inspire, connect and create community among a network of parishes intentionally pursuing mission, through the best of leadership principles, in the power of the Holy Spirit.
In the 4 years since parishes have started implementing Divine Renovation principles, parishes are bearing fruit as lives are transformed. Divine Renovation is currently connected with around 500 UK parishes – from parish leadership teams receiving one-to-one coaching, to cohorts of priests experiencing Kickstart; and from parishes in group coaching, to those curious to learn more.