together
HeartEdge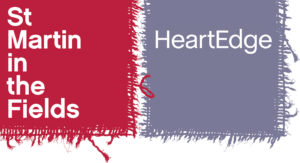 Initiated by the congregation at St Martin-in-the-Fields in 2017, HeartEdge is a movement for renewal, fuelled by people and churches sharing their assets, experience, resource and need.
An ecumenical network, HeartEdge brings together people to share ideas and experience, do theology and develop their church and community. We are developing in the UK, US, the Netherlands, Australia, South Africa and elsewhere.
HeartEdge is about churches developing four Cs:
Commerce: Generating finance via enterprise, creatively extending mission.
Culture: Art, music, performance re-imagining the Christian narrative for the present.
Congregation: Inclusive liturgy, worship and common life.
Compassion: Empowering congregations to address social need.
HeartEdge supports churches in reimagining themselves and society. This is about churches engaging in commerce, culture, compassion or congregational life investing in some or all of these at the same time. HeartEdge works with churches moving beyond conventional notions of church, being open to partnership and collaboration with others in the wider world.
Watch recordings from HeartEdge events.
CCX.media curates this content on behalf of HeartEdge.