In June 2020, as the country was emerging out of its first lockdown, Lydia Corbett became the new leader of St Leo's Basford in North West Nottingham. We spoke to Lydia about reopening St Leo's, planting a new worshipping community during Covid and her vision for this church to become a beacon for Basford and beyond.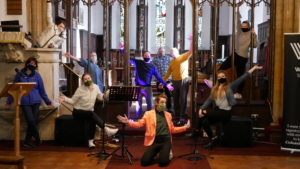 It's been a bit of a whirlwind moving to Nottingham and launching St Leo's during the pandemic. We kept moving back the launch date – we were originally going to start in September 2020 and then January when the second peak happened. In the end I thought, 'Let's just go for it', so we launched online this March and we had our first in-person Sunday service this Easter 2021. We can't do lots with the two-metre rule – we can only fit 55 people in the building safely – but it's brilliant to get going and let it grow as we emerge out of restrictions.
There's been a church on this site since the twelfth century. It's an extraordinarily beautiful building surrounded by inner-city Nottingham, a bit of an oasis in the city. About four or five years ago, seven neighbouring parishes in North West Nottingham (who mostly had very small congregations and were struggling financially) began to be joined together with the hope of starting something new. Bishop Paul Williams set out a vision to create a network of churches, which we now call Woven, made up these seven distinct communities. We describe ourselves as a church of churches: each local church has its own identity and feel but we are woven together in our vision to pioneer new communities and call Nottingham to the wonder and way of Jesus.
Rich Aktinson moved up about two and a half years ago and he leads one of these churches, St Margaret's Aspley, as well as being the Woven Team Leader. St Margaret's Aspley functions as a hub or resource church as it's got the largest congregation with a licence to revitalise and plant into the other six churches. Peter Shaw, whom I had trained with at Wycliffe Bible College, planted into one of these, St John's Bilborough. Then the team began to think about planting into St Leo's Basford.
At this time, I was living in London as a curate at St Dionis, Parsons Green, and one day I had coffee with an old colleague, Sarah Jackson. Sarah runs the Church Revitalisation Trust and she's known me for years. We started talking about my next steps and Sarah mentioned Nottingham. I thought it was a bit odd and thought 'What's in Nottingham?' But I suddenly remembered that Rich had moved there. I'd not seen him for months, but I ended up texting him to say I was thinking about future plans and that Sarah had suggested asking if there was anything interesting happening around Nottingham. Rich texted back immediately saying, 'We've got this church plant at St Leo's that we'd love to do and we thought you'd be the best person for it, but I never thought you'd leave London!'
We now have a senior leadership team for Woven. Four of us are ordained – Rich, Peter Shaw at St John's, Peter Huxtable who has just joined us to plant into St Martha's Broxtowe, and me. Even though each church feels different, we have this common aim of pioneering new communities and ministries to reach people and create spaces where new disciples can grow together. We also have Pippa on the leadership team who oversees our youth and kids work and our general central ministry at Woven. Our kids' work and operations are all centralised at Woven – it's quite a unique set-up but it's been a real blessing to have this looked after centrally.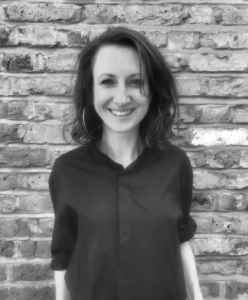 When I arrived, St Leo's was an empty building so it's been a huge adventure of faith building a team during the pandemic. I didn't come with a team, like some church plants, but God has been so faithful in providing people. My prayer was to find people from Basford who have a heart and gift for leadership. One girl I met really early on, is called Megan. She's from Basford and turned out to be an amazing worship leader who trained at Soul Survivor; she's now an incredible asset to the church. One of my Woven team members who looks after central operations has joined the team, the diocese has sent a couple of ordinands to us and one of my best friends is moving up. So we naturally built a team of about 10-15 of us and it feels like a good size in this current climate – anything bigger and it might be harder to stay connected. The neighbouring church, St Aidan's, has been really supportive – we share a joint PCC and their treasurer has become our treasurer too, so they're excited about what's happening at St Leo's. The Diocese of Southwell and Nottingham are giving us lots of support as we get going too, which has been amazing.
Our hope at St Leo's Basford is to be a beacon for the community – we love the prophetic picture in Matthew 5 about being a city on a hill. The church building has a massive tower and you can see it for miles around, so we want to be a beacon for Basford and beyond. Currently St Margaret's Aspley is the hub church at Woven, but we'd love to make St Leo's and St John's Bilborough into other hub churches to pioneer new communities in the area. St Leo's is in quite a strategic position – we're close to the city of Nottingham so it feels like a real mixing pot; if you walk 5 minutes in any direction from the church, you can be in a different community. There's everything from the Whitemoor Estate, which is quite a white working class area, to the Maltings, which is a massive Nottingham Trent University halls of residence with over 500 students. Lots of young professionals live in Basford as you can commute into the city easily with the tram and where I live, in New Basford, it feels really multicultural, more like inner-city Birmingham. There's an amazing local pub called the Fox and Crown which has this great mix of demographics – the landlord has been so supportive of St Leo's and it sums up the eclectic feel of Basford.
We were able to start building some great relationships before everything closed down again at the end of October. We've made links with the local pub and primary schools, and we ran an Easter egg hunt on Easter Saturday with 50 families. There's a brilliant Baptist church nearby and they really want to work together, so we're thinking about starting a wellbeing cafe hosted in our churches. Sundays still feel a bit strange – no one really knows each other and we can't have a big church lunch together to start building relationships! But we're doing a lot on social media and I'm trying to paint a picture of community for when things open up more. Hopefully from mid-May, we'll be able to start 'Six inside', where we'll invite six people inside, and we've got these beautiful gardens so we'll have church picnics. We're teaching on family at the moment – I love the John Mark Comer's quote that 'God is a family-making family'. We've had to be agile with our plans over the last nine months – we're constantly having to respond and rethink. It's been definitely different to how I thought a church plant would start! But against all the odds, momentum is building and new people are coming. Sometimes I have no idea where these new people are coming from!
Calling is a strange thing. I've always wanted to plant a church and I knew people here, so it wasn't a completely illogical decision. But I left a settled life in Fulham to move to Basford and forge something new for the kingdom. If the Lord is calling you somewhere, just do it – God will build it. We often joke that we are more of a sticky tape church than a shiny church. It can be a bit raw and imperfect when we church plant, but sometimes we just need to start. We've realised during the pandemic that small can be beautiful – we can still plant small communities if it takes a while for things to return to normal.
More like this
Plant Stories
Hear from planters about their own journey and experiences. The highs and lows, successes and challenges and learn from their stories.